scroll for more >>
2016 was an exciting and busy year for TheRide. We added a lot of service and made significant improvements, with the help of our community's input. In May, we saw our largest service expansion since 1979, which created more ways to connect with jobs, school, appointments, shopping, and family and friends. New local routes were introduced in Ann Arbor and Ypsilanti, and thanks to Pittsfield and Scio Township even more new routes were added. Our A-Ride service for riders with disabilities has also been expanded. All of these improvements would not be possible without the continued support of the communities we serve.
In Fiscal Year 2016, we welcomed 33 new motor coach operators and added 21 new buses with the latest technology and a new paint scheme into our fleet. In August, we introduced major improvements to our website, TheRide.org, to make it easier and more convenient to use our services. Riders can now access a suite of rider tools right from the home page. Tracking your bus in real-time is now easier than ever. Trip planning and personalizing your routes and schedules are now conveniently accessed from our homepage, too. All of these improvements to our technology are just another way we continue to serve you better.
We are excited to report that in the first quarter of Fiscal Year 2017 overall ridership has seen an increase of 5 percent. This is a good indication that our services are highly valued in the communities we serve.
In 2017 we are planning to make even more improvements to our service. This fall we will introduce a shared-ride pilot service in southern Ypsilanti Township to improve connections to Route 46-Huron-Textile. We also plan to add a new express service between Ypsilanti Township and Ann Arbor.
To learn more about our continued improvements to our services, visit TheRideYourWay.org. Thank you for the continued support and we look forward to continuing to serve you.
Sincerely,
Matt Carpenter
CEO, TheRide
Jereme Gallier I'm new to the area and I use the weekend service to go to Kerrytown Farmers Market and out to dinner and use the weekday service to find work. I would say AAATA has some of the best transit service in the country. The rider tools on TheRide.org are really helpful.
Daniel Ranbolt Routes 28B, 30, and 29 give me three convenient ways to get home from WCC. I used to ride 12A and 12B, but now it's much easier to get home for me. I use the bus tracking tool on my phone and it saves me from waiting out in the cold.
Grace Hobbs I use Route 31 to get to grad school and back home. It's more convenient for me because Route 9 used to run in a large loop and that made my ride much longer. It only takes ten minutes to get downtown and the bus tracker tool is very helpful.
Stephan Thomas The city bus and Park & Ride lots have proven to be a wonderful benefit for VA employees. They avoid parking hassles and it's easy for them to get to work!
Tell us how TheRide helps you!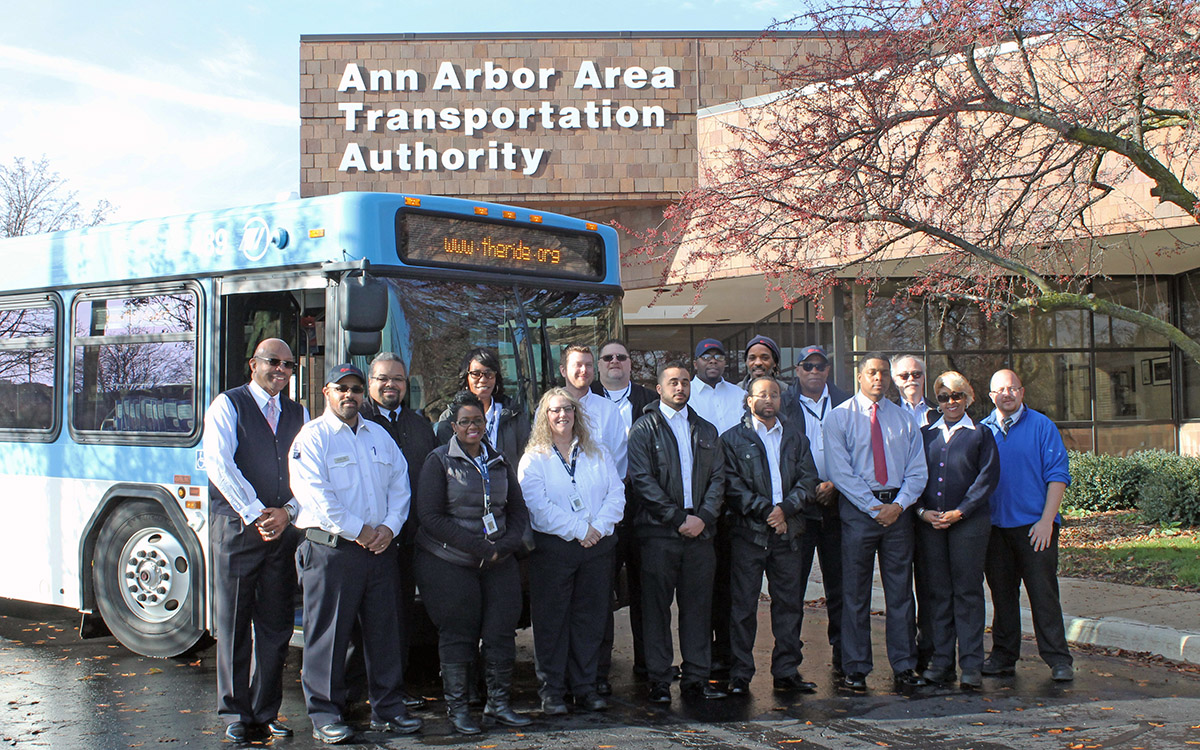 Our most recent class of new motor coach operators.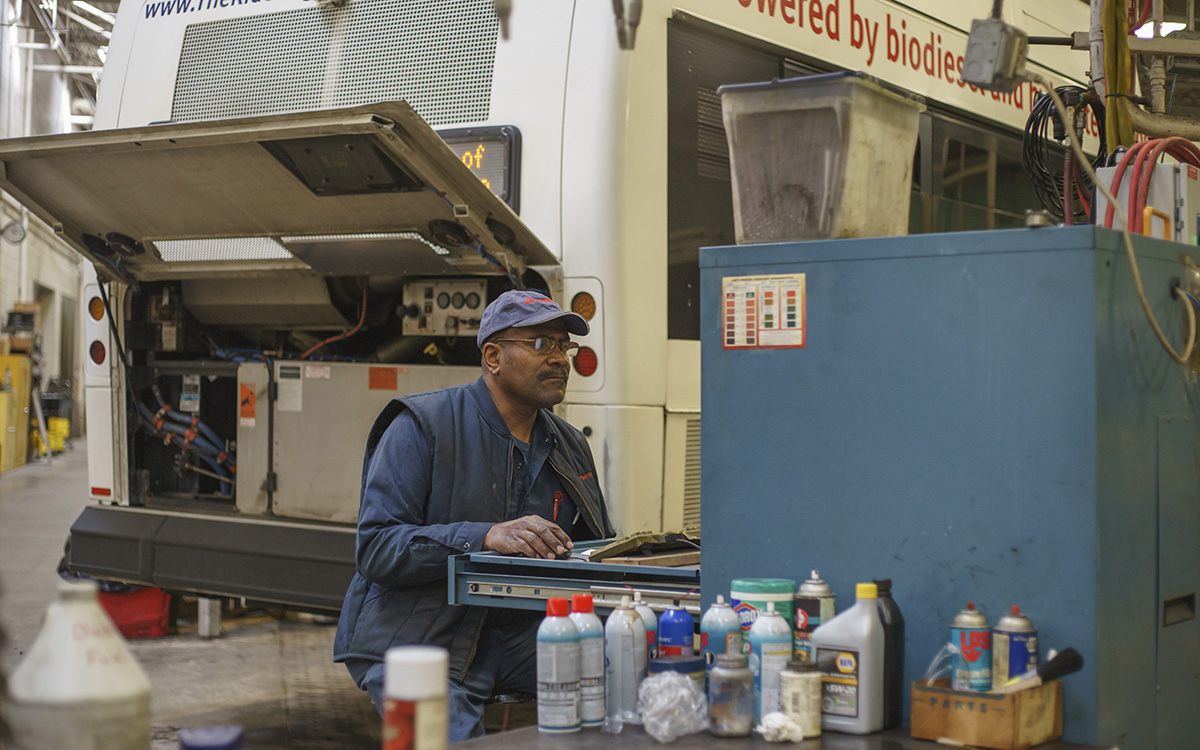 Behind the scenes at 2700: Jerry Page working to keep our buses on the road.
Staff members Samantha Potter and Becky Ashcraft staff a rider information table at the Blake Transit Center.
Staff members Deb Freer and Tracy Byrd staff a May 2016 Outreach table at Huron Valley PACE.
BOARD OF DIRECTORS
Eric Mahler, Chair
Stephen Wade, Secretary
Eli Cooper, Treasurer
Jack Bernard
Michael Allemang
Sue Gott
Larry Krieg
Gillian Ream Gainsley
Prashanth Gururaja
Roger Hewitt
MEMBER COMMUNITIES
City of Ann Arbor
Christopher Taylor, Mayor

City of Ypsilanti
Amanda Edmonds, Mayor

Ypsilanti Township
Brenda Stumbo, Supervisor
PURCHASE OF SERVICE COMMUNITIES
Pittsfield Township
Mandy Grewal, Supervisor

Superior Township
Kenneth Schwartz, Supervisor

Scio Township
M. Jack Knowles, Supervisor